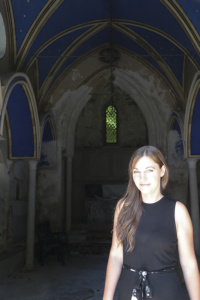 Born in Hallstatt, Manuela Seethaler is a photographer and cultural manager. She founded the cultural platform "de-zentral.at" with the beginning of the pandemic in March 2020 and is project manager, as well as initiator of the Artists in Residence program "Hallstatt AIR".
With her projects, Manuela Seethaler is committed to discursive contemporary art and cultural productions in decentralized spaces. This includes both rural spaces and unused spaces that are revived and temporarily curated as event spaces.
In 2015, she graduated with a major in "Cultural Management and Cultural Production" at Kunstquartier Salzburg and worked in the stage and exhibition sector (including Ars Electronica Festival Linz, Schauspielhaus, EM&Z Festival Mondsee and Steirischer Herbst in Graz). Deepening her knowledge, she started the master's program "Cultural Studies and Cultural Management" at the MDW in Vienna in October 2018. The specialization in project-related cultural work, as well as the activation of vacant spaces has now made her an expert in this field.